Hello everyone,
My name is Natalie Vincent, and I am a 33 year old programmer living in Melbourne, Australia.
If you are here regarding my transitioning, my Frequently Asked Questions page will hopefully answer all those questions you may have.
Sadly, my blog was spammed so much that I had to take it down. I hope to have some spam-proof blog software up at some point, but I'm kind of busy writting a book and doing various theatre productions at the moment, so it's on the back burner.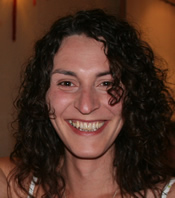 Source code and Powerpoint slides for presentations I have done for ADUG and The Melbourne Patterns Group, are available on my Nerd Stuff page
I also have a photo gallery which has a picture record of the last couple of years of my life. Some may find it interesting. :-)
At the moment, I'm running a little social experiment, to see if I can find some long lost friends via email. If you are interested, feel free to have a look.
I have recently added the ability to switch between different themes for this site. On the left (and on the bottom of every page) there are a group of links. Selecting one should change the colour scheme and a few images. You'll need a fairly recent browser for this to work.
N@