Hi,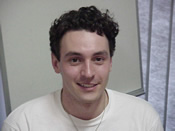 Matthew Vincent
in '99ish
Obviously, I've called you or contacted you and given you this web address, or maybe someone else has passed it on to you. You might have even found it by searching for "Matthew Vincent" in Google!
I've written this page as a way of letting some of my more distant or long lost friends and acquaintances know of what happened to a man called Matthew Vincent.
You may be wondering why, at the bottom of the page, it says that it's copyright Natalie Vincent, not Matthew Vincent.
Well, to put it simply, I've changed my gender and I am now living as a woman.
For a very long time, I have known that there is just something not quite right about me. When I was seven I worked out what the problem was. The person who I saw in the mirror was not me, but a boy. That image did not fit my internal self image, which was that of a girl. From that time I have craved to be a girl.
I have struggled with this problem since then, often leading to bouts of depression and anger. I now know that the condition is called Gender Identity Disorder or Gender Dysphoria. For someone in my position, especially considering the acuteness of my feelings, the only way to really solve the problem is to take the very large step and change ones gender.
So, what does this process involve? Well, first up, I have taken female hormones and a testosterone blocker. This has slowly changed my appearance to be more feminine, and now I no longer need to take the testosterone blocker. I now look just like any other woman. I take a low dose of estrogen every so often to stave off oesteoperosis, either as a pill every day, or as an implant that is replaced every four months or so.
Secondly, I had to live as a woman full time for about a year and a half before becoming eligable for gender reassignment surgery. I started this "real life test" in November 2001, but took my official "Going Full Time" date as being from the midway through January 2002, since this was the first day my children saw me with full makeup on, dressed as a woman. I changed my name late in 2001 to Natalie Elizabeth Vincent. I go by either Nat, Natalie or of course, N@. :-)
Thirdly, after living full time for the minimum of period, I underwent Gender Reassignment Surgery (GRS) in June 2003.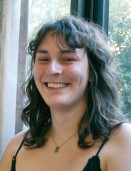 Me in June 2005
Now, you may find this very confronting, especially if you have thought that you knew me quite well in the past. For that I apologise. Unfortunately, I didn't tell many friends or loved ones about this problem before, as I was afraid of loosing them and afraid of what society as a whole would think of me.
I have put together a Matt to Nat FAQ which will hopefully answer any questions you may have about what I am doing. If you have any further questions, or just simply want to contact me to say hello, you can email me. I also have a photos page on this site, to show my friends and relatives how I am progressing. There is nothing rude I can assure you! Feel free to have a look around.
N@
P.S. Just to make sure you've got the right Matthew Vincent, I was born in Victoria in 1973, moved to Sydney when I was about 7 and lived on Dobell Rd, in Engadine and went to Engadine Primary and Newington College. I moved to Melbourne in 1994 (I think) and have lived in Armadale, South Yarra, Bayswater, Belgrave and Richmond (to name a few).
themes: wattle | gum leaves | bark